Review #7: Reorienting the Gateway: Saudi's Inaugural Islamic Arts Biennale
Sara Almutlaq







The first edition of the Islamic Art Biennale: Awwal Bait in on display from January 23, 2023 – April 23, 2023 in Jeddah's Hajj terminal. The first edition was led by the curatorial team consisting of Sumayya Vally, Dr. Saad Alrashed, Dr. Omniya Abdel Barr, and Dr. Julian Raby. With participating artists; Igshaan Adams, Leen Ajlan, Reem Al Faisal, Adel Al Quraishi, Nasser Al Salem, Noura Al Sayeh-Holtrop, Sarah Alabdali, Rund Alarabi, Nora Alissa, Moath Alofi, Farah Behbahani, Sultan Bin Fahad, M'barek Bouhchichi, Sarah Brahim, Bricklab, Lubna Chowdhary, Civil Architecture, DAL – Digital Arts Lab, Abdelrahman Elshahed, Alia Farid, Basmah Felemban, Iheb Guermazi, Haroon Gunn-Salie, Ziad Jamaleddine / L.E FT Architects, Idris Khan, Yasmeen Lari, Huda Lutfi, Ahmed Mater, Haroon Mirza, Joseph Namy, Moataz Nasr, Beya Othmani, Yazid Oulab, Shahpour Pouyan, Kamruzamman Shadin, Wael Shawky, Muhannad Shono, Dima Srouji, Studio Bound, SYN Architects, James Webb, Ayman Yossri Daydban, Ayman Zedani, Fatiha Zemmouri, Soukaina Aboulaoula.




As the hype of "IRL" socializing under the translucent canopy of the Hajj Terminal has seceded, and we—or perhaps just me—are left in a delirium of conversation fatigue and a fog of meaning, the Islamic Art Biennale remains. Saudi's inaugural event is as contested a thematic, as it is a sensory experience. One fluctuated between the rhythms of slowness that the soft beige Teflon canopy invited, and the speculative hum of a contemporary art scene eager to digest, gossip and forecast. If silent enough, as you walk through the five OMA designed galleries, or between the follies of speculative architectural work outside, one can hear the murmur made by thousands of hurried footsteps racing to Mecca. If space contains collective memory, if the lore of communities is held within the material units of our world, then Skidmore, Owings & Merrill (SOM)'s Hajj Terminal made that relation very vivid.


Islamic Art Biennale on opening night. Photo: Marco Cappelletti

The Islamic Arts Biennale, from title to site, sets out on the difficult task of reconfiguring the Western conception of "Islamic Art" through reclaiming the term and its compulsory public imaginary. This was not a retrospective on the lineage of Islam made by a colonial institution in the globe's western hemisphere, rather it was a statement by the Islamic community itself, on an inherited framework. The Islamic world, and an enthused Western one, beheld the exhibition artifacts—contemporary and historic—with the gaze of judgment day. The air buzzing with reverberations of the outdated (yet omnipresent) question of, "What is Islamic art anyway, and why does it matter in 2023?".



Before unraveling the nuances, success and failures of Islamic Arts Biennale 's curatorial antithesis; we must consider the force of perspective situating the biennale in a space of Islamic pilgrimage demands. In witnessing the biennale, as building and exhibition one is consumed with references to national fidelity and pious hospitality. The Hajj Terminal—dubbed by SOM as "The Gateway to Mecca"—and its contemporary counterpart, the inaugural "Awwal Beit" exhibition, are born of similar moments in national history. The Hajj Terminal, built during Saudi's first oil boom, was a material representation of the nation's vision of Islamic hospitality. The "Awwal Biet", launched 50 years later, in a similar air of revolutionary vigor, extends that Islamic hospitality to creative practice as a spiritual and unifying act. Both instances prop the Saudi national identity as a father figure, a pious welcoming embrace to communities of pilgrims and their creative counterparts.

The building had another meaning too, it was a constant reminder, as one gazed at "Islamic Art", that Islam as practice, as ritual and as a performative act is as corporeal a presence in the lives of its communities today as it was 200 years ago. Here, the collective memory embodied in space, one of practicing pilgrims and a spiritual voyage, reminds us of the arresting reality of the presence of Islam in our lives, as we attempt to dissect our own Islamic identity in creative practice.



Image extract from SOM's Hajj Terminal promotional video

One finds a radical sense of intention for reclaiming Islamic identity in creative practice beneath all the nuances the curators, cultural strategists and artists displayed. Nasser Rabbat's whispers echo in the artworks, searching for the orientalist in the Islamic, and the Islamic in the performative. Contemporary commissions by artist like Joe Namy and Sara Al-Abdali evolve the meaning of Islamic Art away from the motif and symbol, towards the ritualistic, identity-driven and speculative. Using contemporary tools within techno arts, archival arts, photography and conceptual art, the artists on display in the inaugural event were able to escape the orientalist narrative of form, shape, motif and symbol, towards a deeper understanding of ritual, identity, community and piety.



Joe Namy, installation view of Cosmic Breath, 2023, at the Islamic Arts Biennale, 2023. Courtesy of Diriyah Biennale Foundation.

Within the framework of a biennale with over 400 contemporary artworks and historic artifacts, the pairing of Joe Namy's Cosmic Breath soundscapes with Nora Alissa's Epiphamania: The First Light hazy projections is a testament to the success of the curatorial experience. Joe Namy subverts the use of techno-tools in ritualistic performance, through an installation of 18 loudspeakers reverberating and indexing Adhan, Islam's call-to-prayer, traversing 18 geographic locations and 200 years of Islamic worship. The sound bits echo on the façade of the photographic projections by Norah Alissa, giving their blurry qualities a sense of life and rhythm. Inhabiting the circular volume of space between the works of Joe and Norah feels like inhabiting the space of spiritual practice, the space of the Kaaba.




If Joe Namy hacks the technological in his creative commentary, then Sara Abdali's After Hijrah hacks the archival. Situated at the tail-end of Gallery One, amongst historic scriptures and Haroom Gunn-Salie's embodied funerary work, the curators bring life to archeological remains of death (basalt tombstones from Mecca's Al-Ma'la cemetery) by invoking presence through Sara Abdali's work: an overlay of oral soundscapes of the deceased's personal histories. Here, one is brought to silence, by both the scenographic layout of a cemetery within a biennale exposition, and by the ability of artists, curators, and scenographers to enliven historical artifacts.

Finally, the work of Wael Shawky In the Sound of the Muzdalifah conjures the metaphysical, ephemeral, and ineffable aspects of spiritual practice within a visual landscape of industrial artifacts. In reference to a childhood memory of Mecca, three steel lampposts are set in a landscape of fragile sand, they move like reversed pendulums troubling the viewers concept of gravity and the normative. The industrial lampposts, paired with Noura Alsayeh's Friday Sermon seem to be swaying to the rhythms of Friday sermons and speaking to the temporal landscape of Muzdalifah.



Pre-16th century tombstone's from Mecca's Al-Ma'la cemetery coupled with Sara Al-Abdali's "After Hijrah".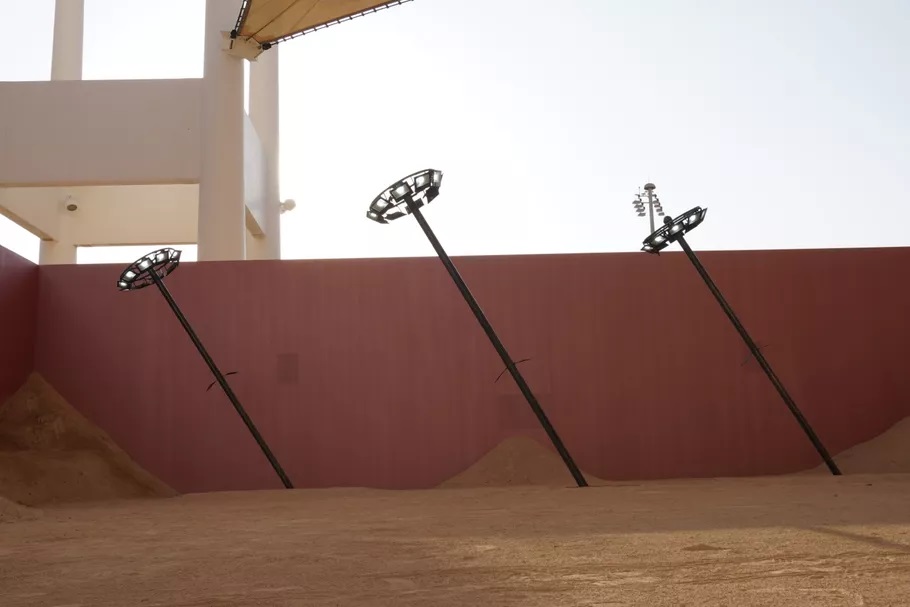 Wael Shawky, installation view of In the Sound of the Muzdalifah, 2023, at the Islamic Arts Biennale, 2023. Courtesy of Diriyah Biennale Foundation.



This understanding of the power of the performative within "Islamic Art", has a deeper meaning to the longevity of Islamic Art Biennale, by relating Islamic art to the ritualistic, performative, and collective; a wellspring of future reflections is born. Unlike other Abrahamic religions, Islam as daily practice is deeply seeded in the lives of its followers. To this day, mosques continue to add to the collection of archival Adhan sounds, Muslims continue to be pilgrims, sheep continue to be halal and communities continue to be bound to their sense of Islamic identity. This indicates that the source of inspiration, speculation, critic, and collection in the Islamic world is unbound with the potential to birth many more curatorial briefs, from culinary habits to modest fashion.

Finally, the success of an Islamic art biennale in 2023, may also be a coincidence in which conceptual art and post-colonial vigor unify. Conceptual art, with its emphasis on ideas and research material, has propelled communities from around the globe to reclaim authority of their identity and political thought, orientalist or otherwise. This does pose, in a twisted act of enablement, a paradox in which what was born of the very oppressor, conceptual art, is weaponized to irradicate that oppression, colonial constructs like Islamic Art. In the age of social media, where Instagram identities take more mental space than community-based identities, the question of, "What is Islamic art?" in relation to the orientalist framework no longer matters. Instead, I put forward the statement that Islamic Art is simply a vessel for all creative practices that speculate on, unravel, question, highlight or represent the cultural habits, spiritual practices, technological drivers, or identity narratives of a community of people that call themselves "Muslims", thus reclaiming ownership of what "Islamic Art" looks like.


*The review was originally published on Haptic Fantasia on February 21, 2023 and we are republishing it on K-oh-llective's website alongside an Arabic translation that can be found on this page.



Sara Almutlaq is a writer, artist, curator and designer currently working and living in Riyadh, Saudi Arabia. Her professional work involves the strategy and development of Saudi Arabia's cultural infrastructure through cultural asset development (museums, cultural centers and cultural programming). She received her master's degree in Architecture from Columbia University in 2020 and is currently an artist in residence in Misk's sixth "Masaha" program.